As the heart of the home, the kitchen is always a place where all the action is happening, whether it is cooking, entertaining, conversing or just sipping tea or coffee. Depending on your preferences, you can have a chef's kitchen with an oversized island and plenty of countertop space or your own Mediterranean style host's kitchen supplied with a bar and counter stools. Luckily, with a bit of organization and quality furniture, any space can become the perfect compromise.
Kitchen equipment and accessories The foundation of an entertainment kitchen is having an "eat-in", a place where friends and family can sit, relax and have a delicious meal or just cup of tea or coffee. If you have the space, an island is a great way to accomplish this. When you're cooking, it can work as an extra countertop space, and when it is time to eat, bar stools can turn it into a non-traditional eating table.
Nowadays, islands, farmhouse sinks and stainless steel appliances are common additions, while customizable cabinets and countertops are key components of everyone's dream kitchen.
Which colours to use? Features of a traditional Mediterranean kitchen will consist of gentle beige or cream touch on the walls to impersonate the sandy atmosphere. To highlight this colour scheme, leave the cabinets, countertops and flooring in a serene and calm shade of white or grey. Emphasize the beauty of the kitchen even more by exposing accessories in deep blue or yellow accents for bringing in liveliness of the Mediterranean.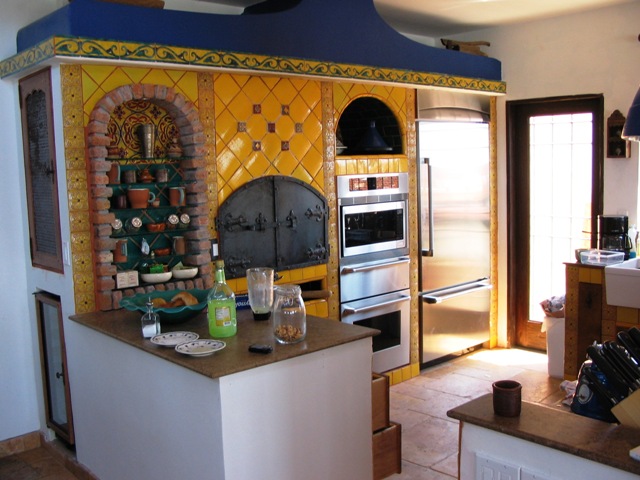 Instead of going with the traditional light-coloured countertop, green or blue countertop would also look good and will add a touch of modern times. Even inexpensive items such as bright dish towels, toasters, ladles or pans can help bring entertaining vibe to the room.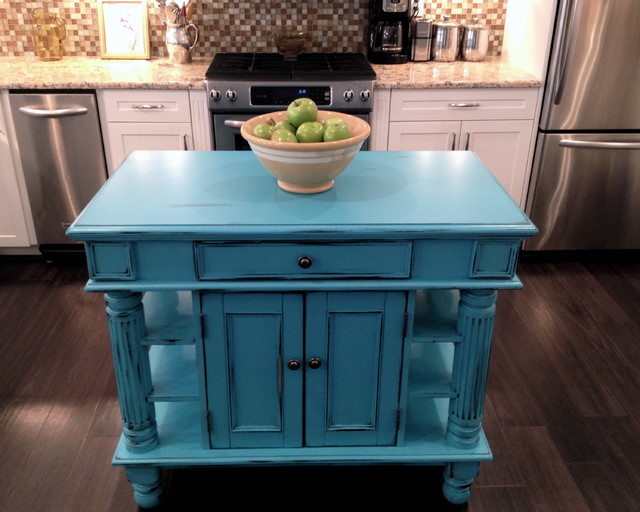 What materials to use? Picking interesting materials is key for helping your kitchen stand out. Pick granite, wood and marble if you want more elegant countertop or limestone and stainless steel for more trendy look. For a bit of colour pick out a vibrant wood floor finish such as lime yellow or turquoise.
How to create more storage? In order to store all your dishes, pots, pans and small gadgetry, you need cabinets, drawers and shelves. To get even more free space, include cabinets in your island and buy spice racks. But, most of all - get organized!
Adding some mosaic tile Tile comes in many vibrant colors, so it's the perfect way to add a splash of yellow or blue without overpowering the rest of the room. You can even add a mosaic which will give it a touch of colorful Spain. Whether it's used on backsplash, countertop or floor, mosaic tile can bring in some cheerfulness, especially since cabinets and kitchen appliances often come in neutral colors.
Shutters – inevitable Mediterranean detail Inevitable details on the windows are shutters. They protect from the sun, as well as wind and are traditionally used in the coastal areas because of their resistance and protection of glass on the windows. Until the recent years they were made mostly from wood, but today they come in more modern and resistant PVC version. You can order them in wide range of colors.
Final touch For the final touch, you can put big ceramic bowls or amphorae and fill them with lavender, rosemary, olive branches, almonds and dried figs. And don't forget to add put spice racks on a visible spot, because what would Mediterranean be without its favourite rosemary, bay, lavender or thyme.